Happy Children's Day 1-6

𝐘𝐀𝐊𝐔𝐙𝐄𝐍 – 𝐀 𝐩𝐥𝐚𝐜𝐞 𝐭𝐨 𝐬𝐡𝐚𝐫𝐞 𝐋𝐨𝐯𝐞 𝐚𝐧𝐝 𝐇𝐚𝐩𝐢𝐧𝐞𝐬𝐬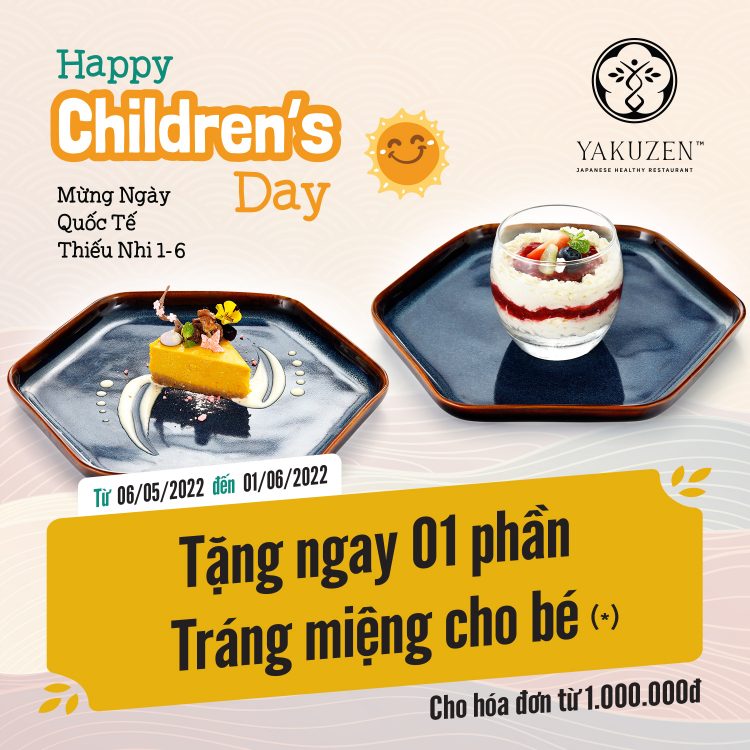 𝐂𝐡𝐢𝐥𝐝𝐫𝐞𝐧'𝐬 𝐝𝐚𝐲 (01 Jun) is the day when parents show unconditional love for their children through meaningful wishes and gifts. When the children grow up, they will always remember that childhood.
Our restaurant especially has a kids room where children can enjoy playing. Let's give children beautiful memories and enjoy their happiness.
For Children's day upcoming, Yakuzen restaurant have special gift for your kid: Free 01 Dessert (*) prepared by our pastry chef.
(*) The Dessert will be randomly given by our restaurant.
Terms & Conditions:
・This promotion is only applicable for kid
・Minimum bill from 1.000.000đ
・Not applicable with other promotions
・Applicable for 01 bill
・Time: from 06 May to 01 Jun
Please make reservation from now, it is a great pleasure for us to welcome you at Yakuzen restaurant.