Special promotions every month at YAKUZEN restaurant

YAKUZEN restaurant would like to send to our customers attractive promotions every month as follows:


1. YAKUZEN DAY – On 8th every month – Discount 50% all Yakuzen hotpot 

Hot pot is a very popular food at YAKUZEN, especially in the evening. YAKUZEN has more than 10 types of hot pot typical for each type of body. Each type of hot pot will add nutrients suitable for each customer's body. The hot pot broth is specially cooked with a variety of herbs in a Japanese macrobiotic style, enjoyed with delicious ramen and udon noodles.
In addition, when order all kinds of macrobiotic hotpot, you have the option to change to Miso hotpot soup with a more frugal taste.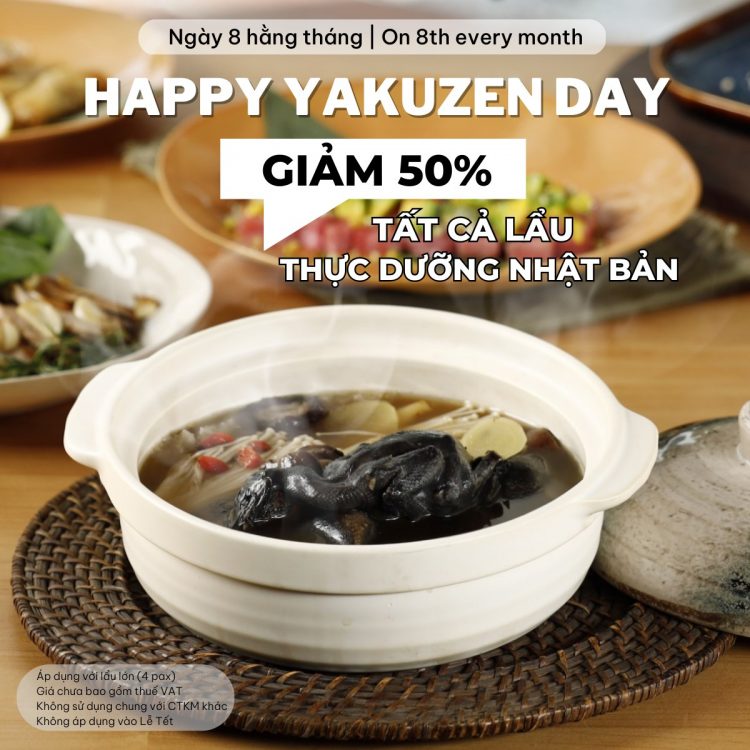 Note: 
-  Only applicable to exchange Miso hot pot soup with macrobiotic hotpot, not applicable to Chicken hot pot and Seafood hotpot.
- Hotpot promotion applies to large hotpots (4pax), not applicable to other promotions and holidays.
- Hotpot promotion applies at the restaurant.
- Price does not include VAT
2. FISH DAY – On 18th every month – Discount 30% Fish menu 
Fish is a symbol of wealth and prosperity. Fish has always played an important role in the daily meal and contains many nutrients for human health. Fish Day program was born at YAKUZEN with the desire to bring diners attractive incentives with meals of different types of fish to diversify nutrients for health, suitable for health and improve health.
3. MEAT DAY – On 28th every month – Discount 30% Meat menu 
Meat is an indispensable part of the meal. Meat is a rich source of protein, vitamins and minerals – which are very important for both physical and mental development. The health of the brain is very important to provide healthy fats and omega 3 fatty acids. In particular, foods containing many of these nutrients are best for the brain derived mainly from animals such as meat, eggs, milk…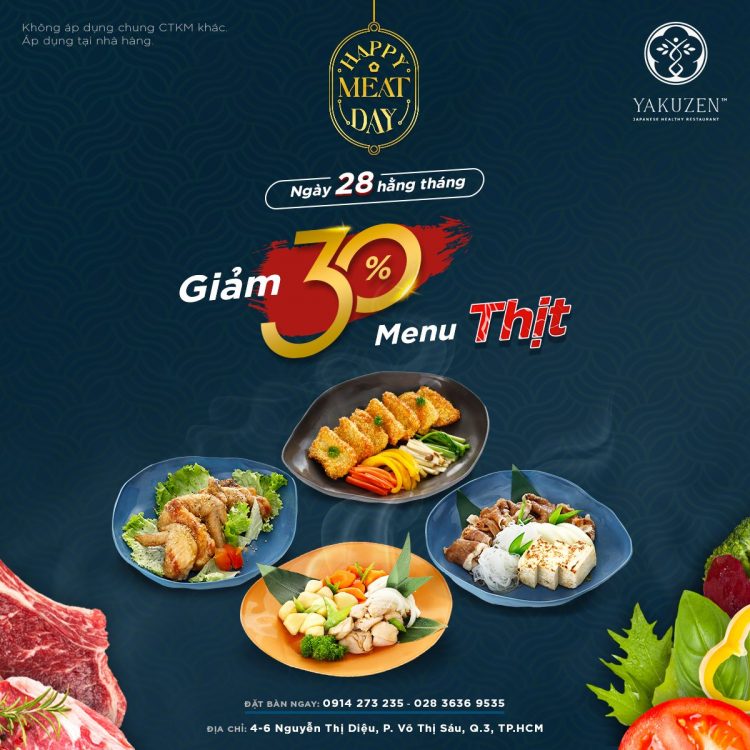 Come to Yakuzen to enjoy Japanese dishes suitable for your body to help nourish your health and enjoy attractive offers. YAKUZEN restaurant is looking forward and pleased to serve you.
FOR MORE DETAIL AND RESERVATION:
– Hotline/ Zalo: 0914 273 235 or Tel: 028 3636 9535
– Fanpage/Instagram: Yakuzen Healthy Restaurant
– Address: 4-6 Nguyen Thi Dieu, ward. Vo Thi Sau, District 3, HCM
See more information about YAKUZEN at: https://yakuzen.vn/vn/
*The restaurant has free car parking