AFTERNOON COMBO TEA SET

We are delighted to introduce 2 new combo for tea time from 14:00 PM – 17:00 PM (Monday – Sunday)
𝐂𝐨𝐦𝐛𝐨 𝟏: (𝟏 𝐃𝐫𝐢𝐧𝐤 + 𝟏 𝐃𝐞𝐬𝐬𝐞𝐫𝐭) 𝟕𝟓.𝟎𝟎𝟎đ
01 Watermelon juice or Iced Condensed Milk Coffee
01 Dessert included 2 kinds (black sesame Cookies and Peach or Avocado or Pumpkin cake)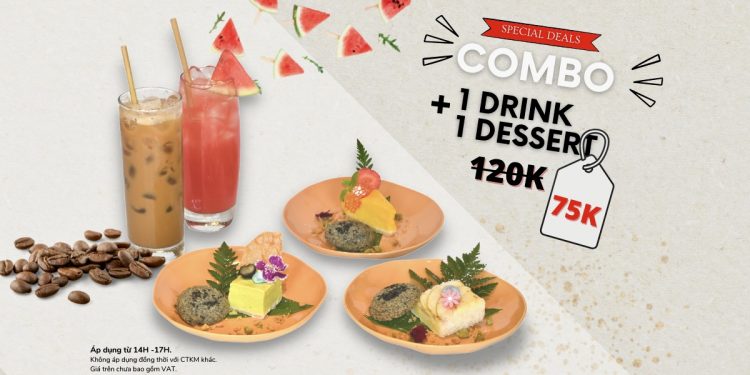 𝐂𝐨𝐦𝐛𝐨 𝟐: (𝟏 𝐓𝐞𝐚 + 𝟏 𝐃𝐞𝐬𝐬𝐞𝐫𝐭) 𝟏𝟗𝟗.𝟎𝟎𝟎đ
01 herbal tea
01 dessert included 4 kinds (Peach ,Avocado, Pumpkin cake and black sesame Cookies)
(Note: Combo is not applicable with other promotions)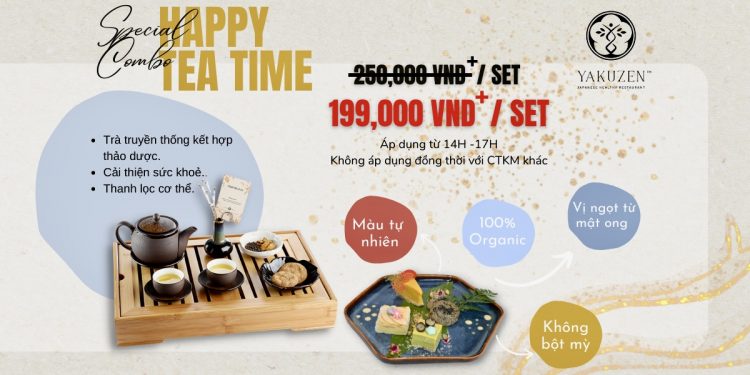 All desserts are hand made by our pastry chef. With the motto of bringing diners a delicious meal while ensuring a healthy balance, we use the best ingredients to make the dessert:
100% organic
No colorants, no additives
Natural sweetness from honey
In addition, herbal tea is one of the most recommended drink at our restaurant, if you have been to Yakuzen, you should try the tea combo with pros such as:
Improve the quality of your sleep.
Improve health: detoxify, relieve heat, reduce stress, ect.
Slow down the aging process, beautify skin.
The habit of drinking tea every day will give you a healthy body and nourishes the mind to focus on working more effectively.
We wishes you have a relaxing tea time at our restaurant.